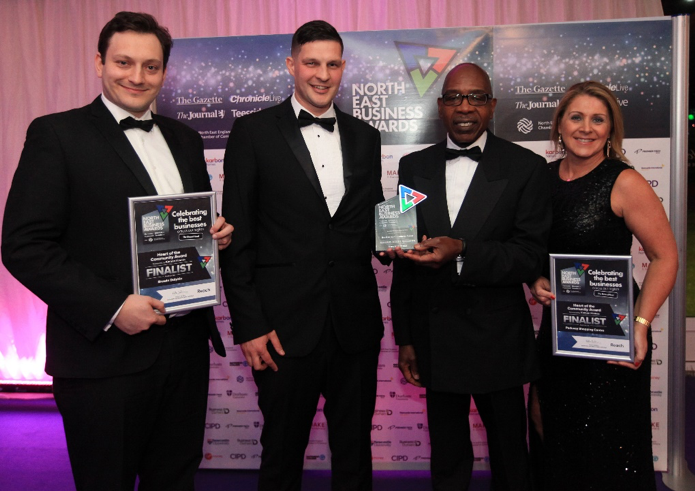 For 57 years Newton Press has been pleased to be part of and involved with the community of Newton Aycliffe.  Since its inception in 1963, the family-run business has grown with the town, always happy to help businesses and residents to promote their services or activities and to assist local charities and fundraisers.
A Community Company
Newton Press is an established print, media and marketing company, started by the late Syd Howarth and now run by his three sons, Paul, Stuart and Christopher.  Syd was awarded an MBE for his services to the community in January 2016 New Year's Honours List and received the award from Lord Lieutenant, Sue Snowdon.  The family continue their community involvement through the business, all the time remembering their father and his passion for the town.
Newton Press are proud of this community involvement including the weekly newspaper, Newton News, which is delivered to more than 17000 homes and businesses every week.  Newton News is a true community newspaper, a 'good news' newspaper which is fully immersed in the town and all that is good about it.
Aycliffe Radio was recently added under the Newton Press umbrella.  A not-for-profit organization and registered community interest company (CIC), Aycliffe Radio is run by a group of 40+ volunteers who enjoy entertaining and informing local residents, as well as organising and attending events around town to play music, provide a PA and raise awareness.
An Award-Winning Company
This year, Newton Press was nominated for the 'Heart of the Community' category in the North East Business Awards and the company was initially up against 1000 other companies in the Sunderland, South Tyneside and Durham heat.  After winning the regional heat, they then advanced to be judged against the winners from the Northumberland and Teesside regions in the  Grand Final, which was the culmination of the three regional finals, held over the last few months and run by The Gazette in conjunction with The Journal, in association with associate sponsors the North East England Chamber of Commerce.
On Thursday 16th May 2019, around 600 members of the North East's business community gathered at the Grand Final, which was held in the grand marquee at Hardwick Hall, near Sedgefield.
There were thirteen awards in all with the event hosted by presenters, Ingrid Hagemann and Alfie Joey and with entertainment and a three-course meal before the award presentations.  Newton Press key account manager Stephen Gosnay attended the finals at Hardwick Hall on behalf of Newton Press.
Newton Press is delighted to be able to report that THEY WON the 'Heart of the Community' award!
The full list of winners and sponsors are as follows:
Heart of the Community (Sponsored by Karbon Homes): Winner – Newton Press
Let's Grow Award (Supported by North of Tyne Combined Authority): Winner –  The Wheel Company Ltd
Newcomer of the Year (Sponsored by Virgin Money): Winner – UK Pods
Apprenticeship Award (Sponsored by CIPD North East of England): Winner – Intelect
Export Award (Sponsored by Hay & Kilner): Winner –  nano-purification solutions Ltd
Innovation Award (Sponsored by Premier Tech Aqua UK): Winner –  Intelligence Fusion Ltd
Manufacturing Award (Sponsored by Business Durham): Winner –  Universal Wolf
Digital Technology Award (Sponsored by Newcastle University): Winner – Atlas Cloud
Services Award (Sponsored by Intu Eldon Square): Winner – UK Pods
Small Business Award (Sponsored by Gateshead College): Winner –  Coleman James
Tourism & Hospitality (Sponsored by Newcastle International Airport): Winner – Beamish, The Living Museum of the North
Company of the Year (Sponsored by Sunderland City Council): Winner – Tharsus Group
Best Creative Company (Sponsored by Durham University): Winner – New Writing North
Newton Press would like to record its thanks to the sponsors of the regional heat Gentoo and to finals sponsor Karbon Homes for awarding us this prestige title and for their kind words at both ceremonies.
Paul, Stuart and Christopher know that this is a team effort and thank all staff and volunteers involved in Newton Press, Newton News and Aycliffe Radio, all 92 of us.
If you'd like to find out more about Newton Press, please contact them by calling 01325 300 212 or visit their website here.