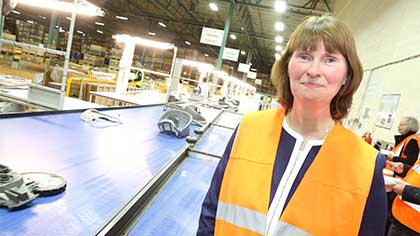 Husqvarna recently celebrated production of the one millionth robotic lawnmower here on Aycliffe Business Park.
The milestone was an extremely important one for a company which has been based here in Newton Aycliffe for 53 years.
We've been manufacturing Flymo lawnmowers here since 1953 and robotic lawnmowers since 2006.
When we started production of the robotic mowers 11 years ago, we were manufacturing 8,000 a year – we're now doing more than that every week.
We've seen a huge amount of investment in our facility which has helped to support our growth over the years as we've had to increase our capacity, which is fantastic for local jobs.
Our location here in Aycliffe which has enabled us to grow. We're close to North Sea ports which is essential for our exporting, but we're also close to distribution networks which is equally important, as we produce more than 300,000 lawnmowers across the UK alone.
Aycliffe is also a great place for skills. We've invested heavily in apprenticeships in recent years and continue to do so as we aim to fill an engineering skills gap.
I trained as an apprentice 37 years ago and I've been with Husqvarna since, moving up through the ranks to become manufacturing manager, so I value the importance of training our young people.
We also welcome the North-East's first University Technical College – the South Durham UTC – which we're working very closely with. Having a specialist engineering and advanced manufacturing UTC on our doorstep can only be to our advantage.
I've worked on Aycliffe Business Park for nearly four decades, so I've seen companies come and go over the years, but I think the future of the park is hugely bright.
We've seen a lot of major developments in the last two to three years – notably Hitachi and the UTC – and other flagship firms such as 3M and Gestamp Tallent continue to grow and perform well.
The park is really buoyant right now, there seems to be lots of opportunities.
Caraline Robinson
Manufacturing Manager
Husqvarna