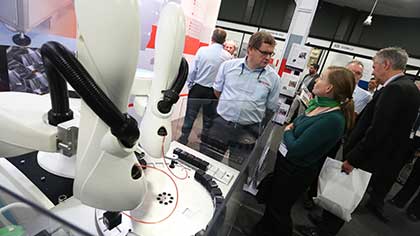 Dozens of businesses have already booked their spot at Durham Oktoberfest, which this year celebrates its tenth birthday.
The manufacturing and engineering expo brings together hundreds of people from the region's business community to network and showcase their expertise to potential customers and suppliers.
This year, Oktoberfest's 10-year milestone, promises to be bigger and better than ever and companies from a number of sectors have already confirmed they'll be attending.
David Land, chairman of County Durham Engineering and Manufacturing Network (CDEMN), which organises Durham Oktoberfest, said: "It's the perfect platform to showcase the North East's vast capabilities within the engineering and manufacturing sectors.
"But more than that, it offers businesses the chance to meet potential buyers, suppliers and customers which we know can and does lead to work.
"Just recently we revealed that logistics company Stiller had secured a six-figure contract with Marmax Products as a direct result of attending last year's event."
Durham Oktoberfest 2017 is being held on Thursday, October 19, at the Xcel Centre on Aycliffe Business Park.