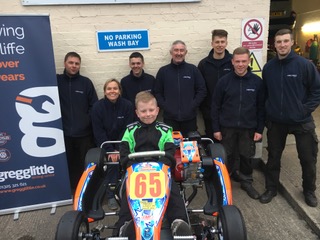 Steve Thompson from Hall Construction in Newton Aycliffe was looking for sponsors for Jack, his son and his new go-kart. Jack has cystic fibrosis and was diagnosed at only 3 weeks old. Rachel, his mum told us he has to take over 50 tablets a day and attends two sessions of physio, but nothing could keep him from go-karting. She explained, "Since Jack found a love for karting, his doctors have noticed a significant improvement in his health."
Jack races at Teesside Autodrome every month and regularly gets on the podium. Racing is only possible with sponsors like Gregg Little.
Everyone at GLTC wishes Jack the very best in his next race at Teesside Autodrome on 25th March for the Teesside Pro-kart and Cadet Sprint Championship.
For those wishing to follow or get involved with Jack on his adventures check out jtracing on Facebook.