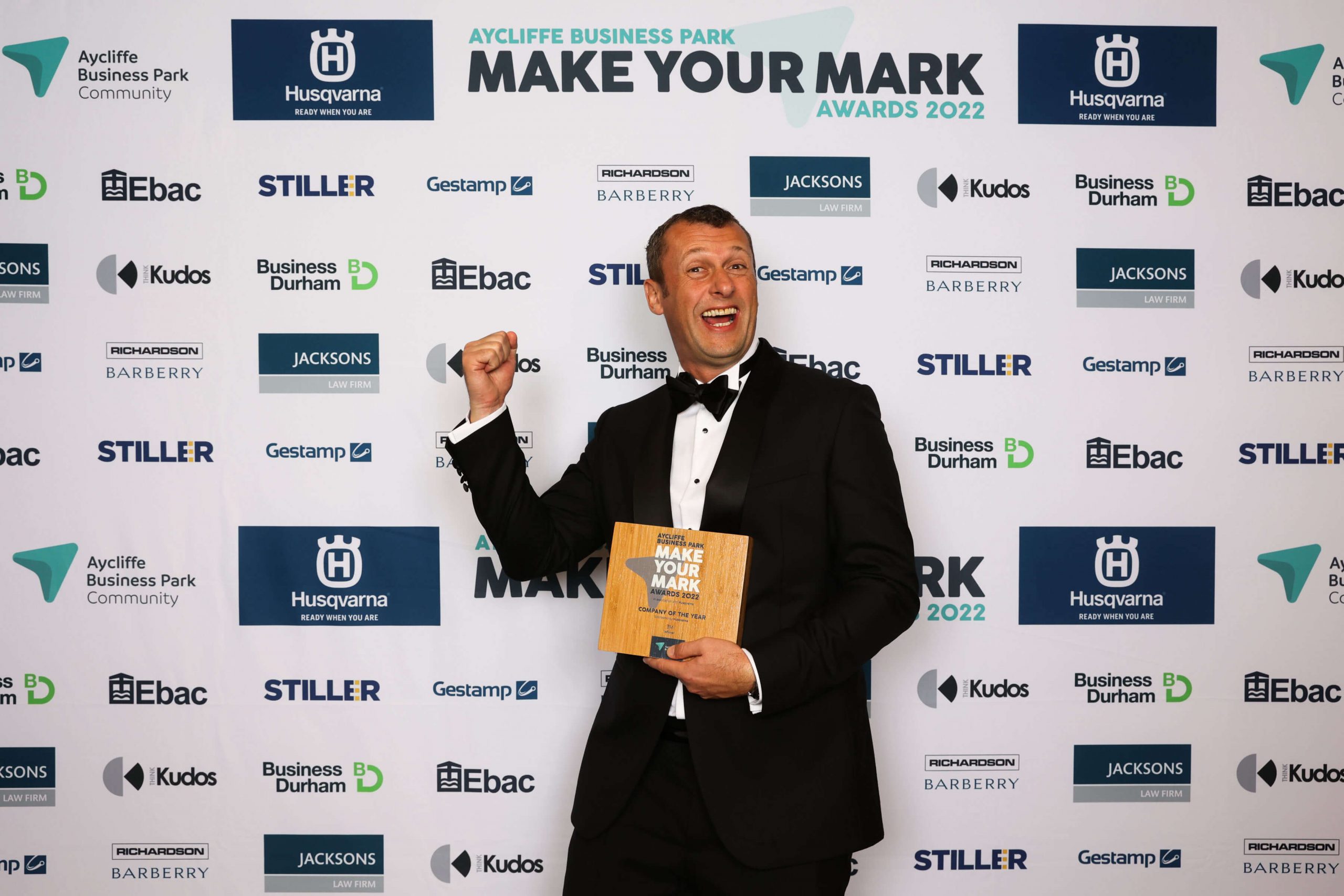 Immediately after being revealed as Aycliffe Business Park's Company of the Year, plant manager Paul Hind dedicated the award to his team.
3M won the big award at the end of the 2022 Make Your Mark Awards ceremony, held at Redworth Hall in May, pipping BTS Facades and Fabrications and Valhalla North, who had already earlier won awards.
"It's been challenging but we've come through it together and this is going to mean so much to a lot of people," said Paul.
"I'm just a fitter that managed to get a decent job. I'm so proud of everyone who works there – it's the people. It doesn't matter about the machines and the building, it's the people."
Throughout the Covid pandemic, 3M produced over 250 million respirators, with a majority going to hospitals all over the world including our NHS.
More than 150 additional people were recruited, working 24/7 to meet impossible demands. 3M's team worked right through the pandemic, from day one when staff had to carry paperwork as key workers.
"Normally we produce things for welders, or for people who work in foundries or pharmaceuticals," added Paul.
"This time we were helping save the lives of people who were saving other people's lives. That just elevated what we're trying to do.
"People really put themselves out to do what was right for the NHS. We all clapped on Thursday evenings and did our little bit by staying in, but our guys came to work every single day working long hours – they were amazing.
"We've had to say 'no' to customers – we've had to take on the NHS and hospitals around the world. There was something really amazing that happened in there and I'm extremely proud.
"This award is well deserved – our guys really need something like this and to get it from your own town is the biggest compliment we could ever get."
As someone who was brought up in Newton Aycliffe, Paul remains fiercely passionate about his local business park and has visions of expanding 3M's operations here in the near future.
He explained: "We are really pushing our company hard to see what we can do to help this town grow even further.
"We're embarking on a programme now that's going to take us back to basics and attract more business.
"I've sold a vision – we've got three huge fields out of the back of 3M and we want to fill them – we want to bring more people in, we want to expand. Aycliffe is a flagship site within 3M.
"3M is a business of 95,000 people. We want to bring more here, and I can't wait until that happens. I'm confident that if we do the right things and take the right steps, we are going to grow this business."
Husqvarna were the headline sponsor of the 2022 Make Your Mark Awards, which included sponsorship of the Company of the Year category.
The firm's manufacturing director Caraline Robinson said: "It was a fantastic opportunity to be headline sponsors, it gave Husqvarna so many benefits.
"As a leadership team we want to support more local events, and it goes without saying that there are great advertising opportunities linked to the awards, across social media; through local publications and during the event itself.
"We learned more about our closest neighbours. The diversity that we have on the business park – and the realisation that many businesses have actually thrived during the pandemic was great to see.
"We also took the awards as an opportunity to reward Husqvarna team members who embody the culture of our business with a "seat at the table" for the awards event itself, as a way of saying thank you to them for their support of their colleagues and of our business."
Caraline says she enjoyed being part of the judging process for the Make Your Mark Awards, adding: "As the awards had not taken place for several years, it was agreed by the judging panel that we would consider how the nominees for the Company of the Year award had performed over this extended period.
"The main reason that 3M were selected as the winner was due to the outstanding contribution that they had made, producing 250 million face masks thereby keeping millions of people safe during the Covid pandemic.
"I think that the enormity of that task was appreciated by everyone on the judging panel, and in particular the obvious dedication and passion of 3M people to support this endeavour."
Pic caption: Husqvarna manufacturing director Caraline Robinson presents the Company of the Year award to 3M plant manager Paul Hind.