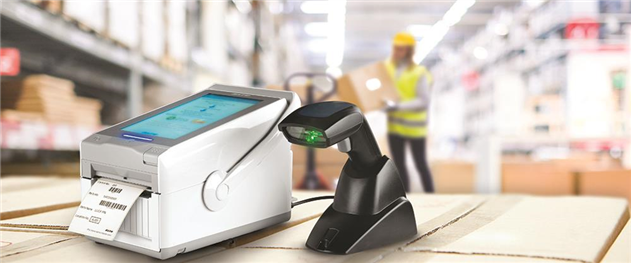 Aycliffe Business Park based company Accurate Systems Labelling has recently begun stocking a new printer, the FX3-LX. This printer is an ideal choice for businesses thinking about updating their print operation.
Did you know that using outdated technology in your workplace can have a fairly big impact on attracting and retaining skilled workers to your organisation? The FX3-LX could be the perfect solution to this issue.
What kind of features does the FX3-LX have?
7-inch full colour TFT screen
Versatile device can either be wall mounted or used mounted to a trolley. Or hand-held, helping reserve desk space
Complimentary video training tool and compliance management/monitoring tool
SATO online services provide support for maintenance, wear part notification and reporting
USB, LAN and WLAN connectivity
Large number of languages supported for both on-screen menu and label printing
What kind of industries are suitable for the FX3-LX printer?
The FX3-LX is particularly suited to food industries, retailers, warehousing/logistics and e-commerce. The printer is also suitable for creating labels for allergen information, put-away, raw materials, cross docking re-labelling and dispatch addressing. The printer has the added advantage of being compatible with eco-friendly linerless labels. It is particularly suitable for the food industry. Because it is fully compliant with food regulations.
Who are Accurate Systems Labelling? Why should I choose them?
We are a Newton Aycliffe labelling business with over 26 years in the sector. Our services include labelling and labelling equipment. But we also provide printer servicing and software. We are proud to have developed a strong reputation for customer service and after sales care. We have supported many local businesses over the years.
Recently, we have launched a brand-new e-commerce site. Designed, developed and supported by Darlington based digital agency Chetaru. All of our products can now be ordered securely online. Where we also have a number of special offers. We only stock top brands such as Zebra, Epson, Toshiba, METO, SATO and Wasp Barcode.
At ASL, we live by the slogan that "a label is not a label". To us, this means that there are many types of products available with a range of specifications and uses. We are a growing North East business. However, we are keen to grow a much wider customer base. And would like to also increase our product offering by working closely with key supply chain personnel.
How can I contact Accurate Systems Labelling?
If you would like to contact us regarding your labelling requirements, please use our online form. We look forward to receiving your enquiry.